I tried to make "Joke Roast Pork" that appears in the anime "Food Wars!: Shokugeki no Soma".
Actually, I found some recipes on the internet so I followed it.
There are many variety of recipes.
There are many variety of recipes so I was wondering which one to use.
I ended up following the recipe from the website I introduced above as they had a video that shows each step and was very easy to understand.
What is "Food Wars!: Shokugeki no Soma"?
This is a popular cooking manga series that was published in Weekly Shonen Jump (Shonen manga magazine with the highest number of circulation in Japan.).
With a total of 36 volumes, the cumulative number of copies sold is about 20 million.
The series is set mainly at Totsuki Culinary Academy, an elite culinary school located in Tokyo, Japan.
This anime depicts the success and growth of Soma Yukihira, a chef boy who is the son of a set meal restaurant in downtown.
It's a very good anime series, but the expression of the taste of the food is sometimes very unique.
For example, at the beginning of the first episode, there is a scene where a huge squid takes off uniforms from high school girls (to represent and show how good the taste of food is) and there are scenes where people who ate really tasty food becomes naked and make ecstatic facial expressions.
When I saw those scenes, I misunderstood that this manga was a blue film style cooking manga which has a stronger focus on erotic scene.
However, in reality this is more of a drama in which he aspires to be a great chef like his father and competes with numerous rivals to reach the top of the culinary world.
The main character, Soma Yukihira, I admire him as a man because he always aims high, boldly challenging even the more experienced and superior opponents to battles without fear.
He also stand for his friends.
Rival characters have different strengths and specialties, such as "seafood cuisine", "spices" and "medicinal cuisine" etc.
The cooking battles which each characters show off their specialty remind me pokemon battle in which characters have special type such as water, fire, and electric.
There are villains such as "Elite Ten Council" and "Central" that must be defeated, and the way he and his friends fight back to them is a battle anime in itself.
It also got produced into anime which has been aired up to Season 5.
Cooking process
Basically, I followed the recipe, but I skipped using kite string.
Because I just couldn't be bothered!
And I used grated garlic instead of grating a fresh one.
I also skipped the process of adding rosemary.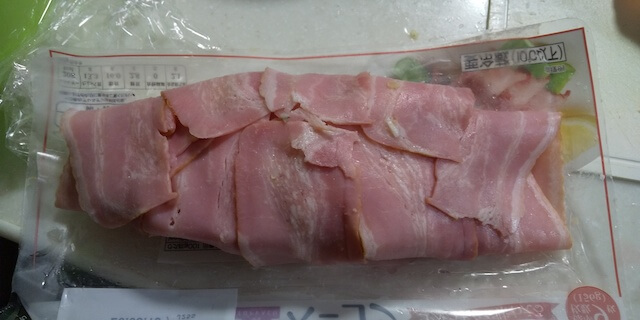 This is a mixture of potatoes and mushrooms wrapped in bacon.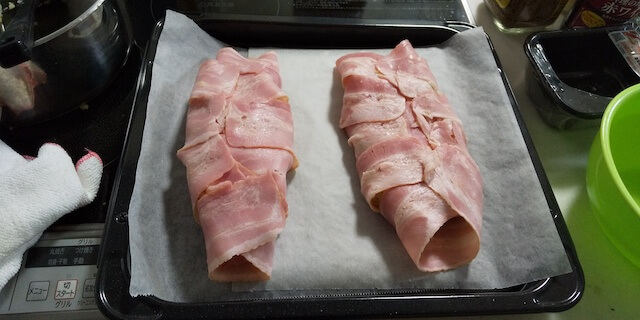 This is what it looks like before baking in the oven.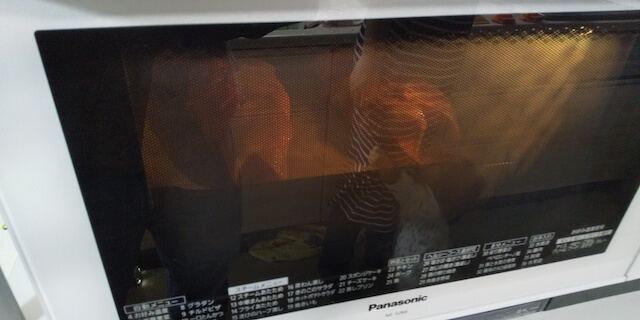 Baking in the oven.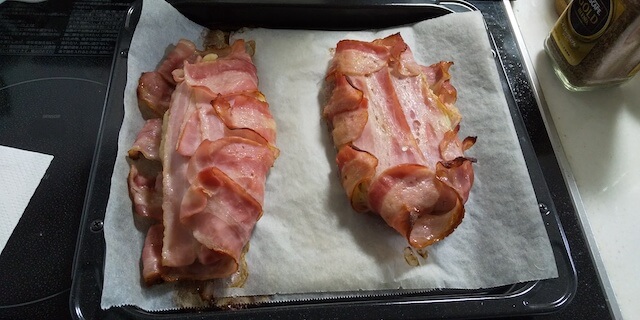 It's done!
Tasting report
Quite tasty.
On manga(or anime), the characters emphasized that it exactly tasted like roasted pork, but no matter how many times I tried, it still tasted like potatoes to me.
(But that may be a matter of my cooking skill.)
At first, I expected "The texture would be like roasted pork!?".
But, when I think about it logically, if the fillings are potatoes and mushrooms, it wouldn't be that way.
I wondered that and read back the manga.
But, it doesn't say "It has the texture of roasted pork." anywhere.
It's a clever expression.
I served it to my wife.
I said "Dig in!" and "Happy to serve!", of course.
What I found out
Food chopper is required
There are many ingredients to be cut in dices: onions, oyster mushrooms, mushrooms, and cloves of garlic.
I recommend to use a food chopper.
Making the sauce is quite difficult.
I followed the recipe which I introduced at the beginning of this article, but I boiled down the sauce too much and it got too strong flavor.
It can be complicated to make the source.
It would be delicious without bacon.
It could be served without the bacon wrap, but with grilled bacon as a garnish.
That way, you don't have to bake it in the oven, which may be a good idea if it's too much works.
How about grilling that?
I feel that a mixture of potatoes and mushrooms would be delicious as a vegan burger.
I'll try it when I feel like it.
For other recipes
For this case, I used a recipe I found on the internet, but there is also a recipe book supervised by a professional chef.
If I try again, I will consider this one to check.
About the author of "Food Wars!:Shokugeki no Soma"
I realized that drawing skill of this author is exceptionally great.
So, I was sure that this isn't his debut work.
While I was investigating his past work, I found an interesting video that traces the history of "Food
Wars!:Shokugeki no Soma" up to it's serialization.
He drew manga for adult magazines, and when he was a newcomer, he was ranked second in sales in the blue manga category for the year 2010, and suddenly became the top seller right after his debut.
However, it was sad for fans when such a author went to a shonen manga magazine, and the comment in the video said, "Fail now and come back to blue manga!" It sounds terrible, but funny.
To sum up
An anime about passionate chefs who are devoted to cooking
"Food Wars!:Shokugeki no Soma"
The animation is available on Netflix.
If you are interested, please watch it.