I often go to park with my son in holiday.
It's too hot recently, and there are no pepple.
We cant touch playground equipments, because it was too hot.
We went to home.
By the way, parks where I have been to play with my son are organized like this.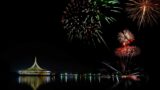 かき ぷれいぐらうんど
【福岡市周辺】公園などの子供が遊ぶ場所の情報をかいてます。
---
週末は公園に行くんだが、
こうも暑いと、流石に人が少ない。
遊具も全部熱を帯びて、シーソーの取っ手が熱くて握れん。
体に悪そうなので、すぐに帰った。
ちなみに、息子と遊びに行った事のある公園は、こんな感じにまとめてたりする。
校閲の内容
まだ