Me
Thank you for telling me about medical placement and Kenya's city.
By the way, speaking of Africa, did you go to safaris and see wild animals?
Katie
Yes! I did!
I went to Masai Mara and Hell's Gate National Park.
Hell's Gate National Park has a rock that became a model for "Pride Rock" in "The Lion King".
Me
That's Cool!
I searched Masai Mara National Park and HELLS GATE NATIONAL PARK.
They look exciting!
Did you take any photos?
Katie
Yes!
I took so many.
I can show you some good ones.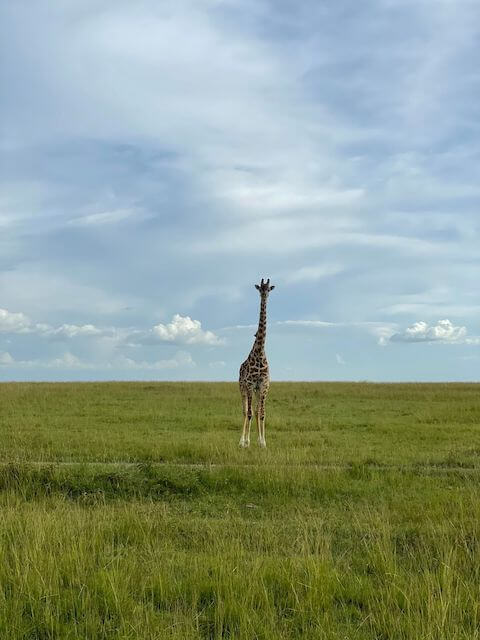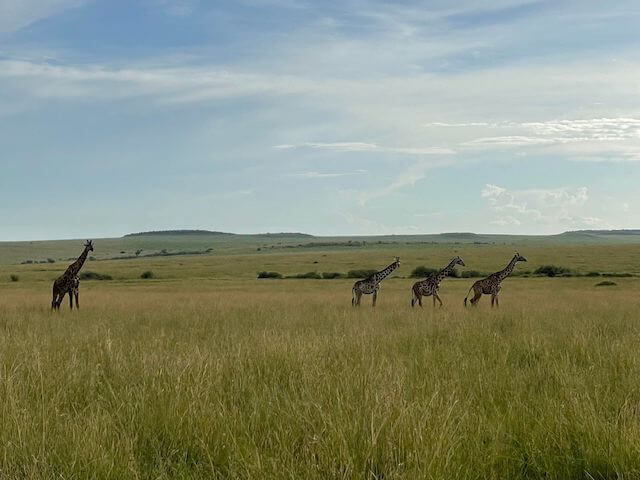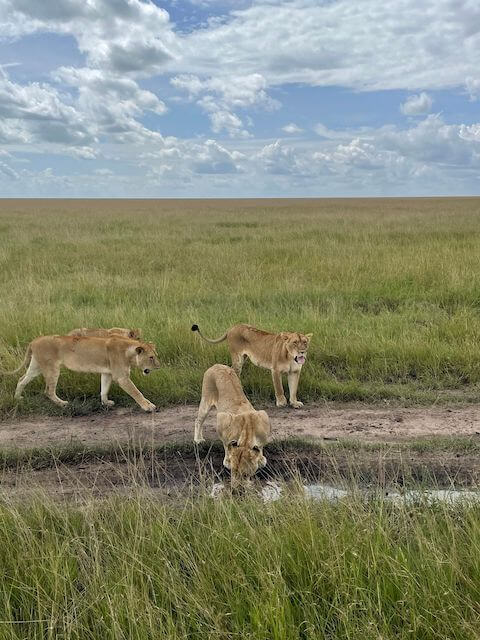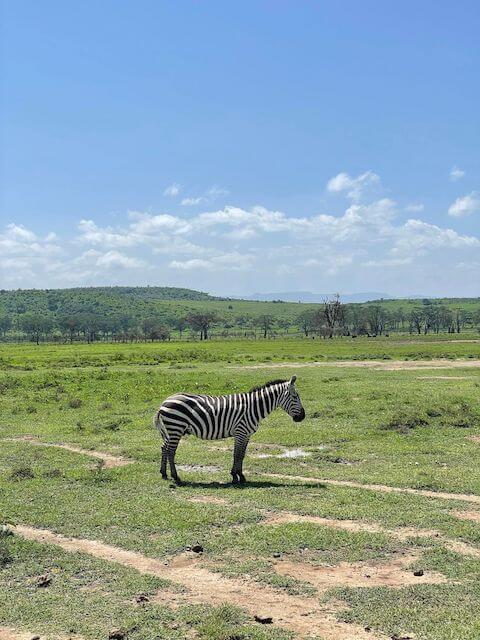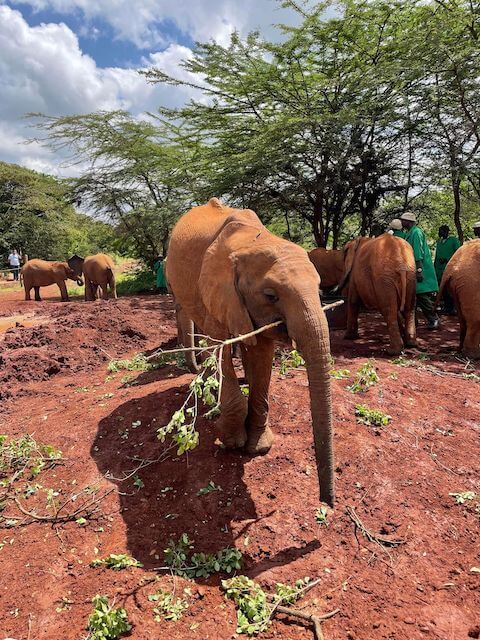 Me
Wooooow!!! Amazing!!!
I've never seen wild giraffe, zebra and elephant.
I have only seen them in a zoo.
Katie
It's awesome to see wild animals in their natural habitat – running around, eating and just living their lives!
Me
I found lions!
Aren't they dangerous?
If they attack you, it is very scary.
Katie
Apparently, the lions are scared of cars because they are bigger than them.
So, as long as you stay inside the car you'll be safe.
But it can be a little scary when the lions come very near as the cars don't have windows.
Me
Really?
It is very scary!
Claws and fangs could reach inside the car if you were unlucky!
Katie
Yeah, possibly.
But, normally they don't attack you. So, don't worry.
Me
I see.
When I go to safaris, I won't worry about it.
Katie
I also went to an elephant orphanage to see some baby elephants.
Me
Is that this photo?
I thought the elephant looked smaller than what I expected.
I heard they are friendly, can you touch them?
I wonder if you can touch giraffes and zebras too.
Katie
You can touch the elephants in the orphanage if they come near you. Sometimes they're really playful and touch your face with their trunks too!
You just have to be careful not to let them step on your feet when they get too close!
Me
That's very exciting!
I want to touch them too.
How did the elephant's skin feel like?
Katie
They are covered in dry mud so it feels hard and rough.
Me
I see, interesting!
We can see them in the zoo, but we can't touch them.
By the way, the nature seems so vast!
Do you have any other photos of the landscape?
Katie
Yes, sure!
These are some of my favorite photos.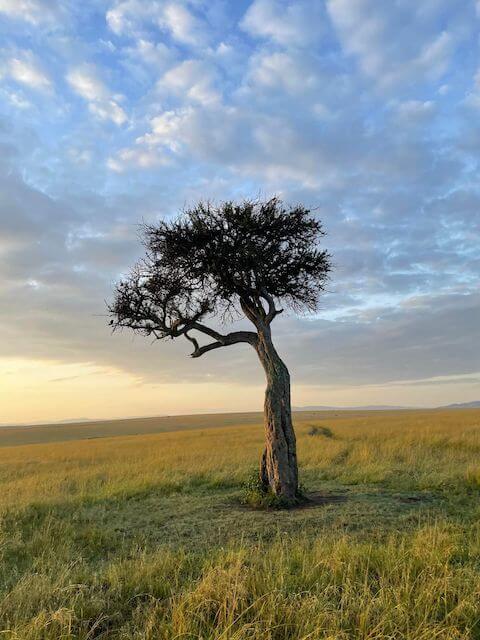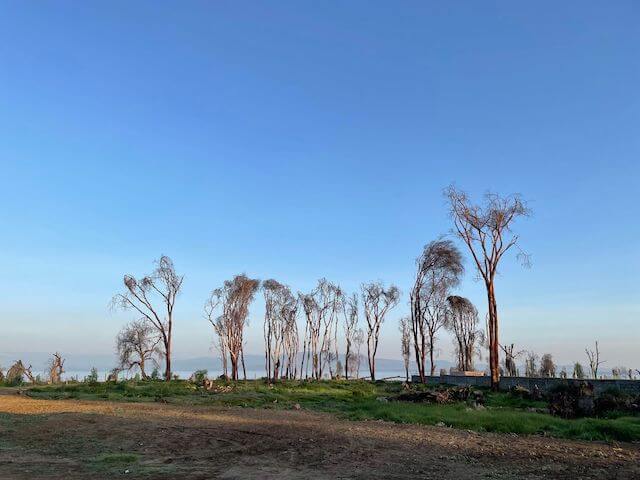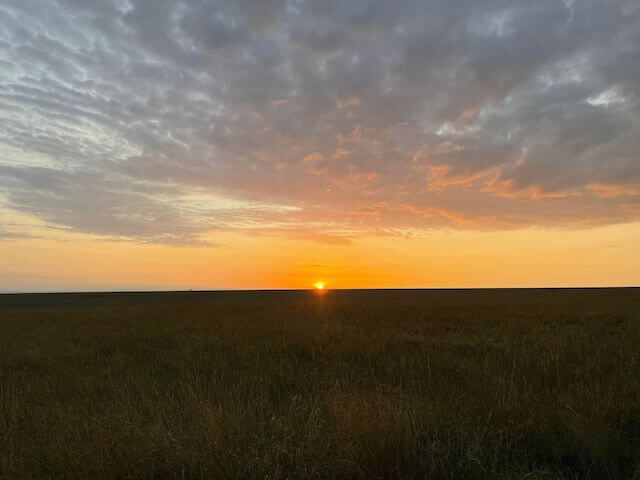 Me
Amaaaaaaazing!
I don't have a word!
It seems like free material from photo websites.
Especially, the last photo of the sunset is awe-inspiring!
Katie
Yeah! It was beautiful!
But, actually the last photo is of the sunrise, not sunset.
Me
Really?
I didn't notice that. HAHAHA.
Then, did you go to the safari really early?
Katie
Yeah, animals are most active during the night and early morning.
So, we went there before sunrise to try and see as many animals as we can.
We were hoping to see the lions hunt but we only found them after they fed already.
Me
Great!
You can see them hunting if you are lucky?
Katie
Yes! definitely!
I couldn't see them hunting, but I saw a pride of lioness and their kids eating a fresh buffalo!
Me
Wow! You really witnessed the circle of life!
Katie
I took this photo from the safari car.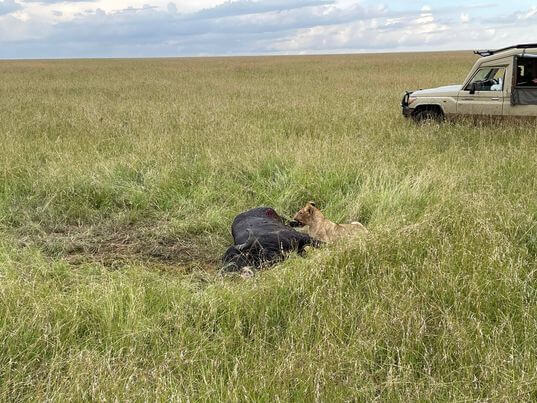 Me
Wow! That's incredible!
That's so lucky that you got to see the wildlife in such proximity!
Katie
Kenya has beautiful sceneries other than the savanna as well.
For example, this is a photo from a beach on the East coast.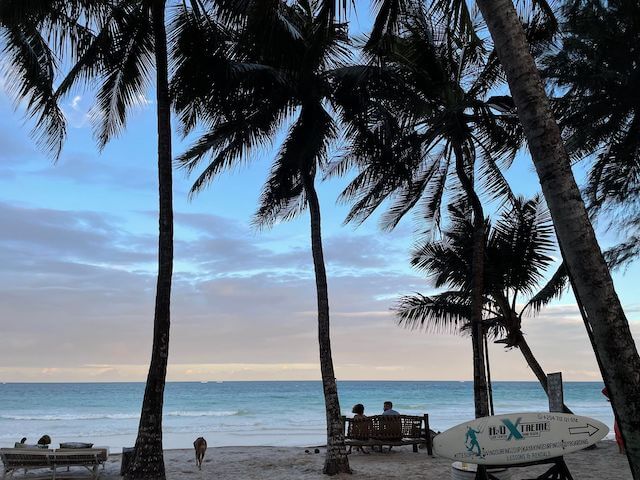 Me
WOOOOW! Where is this?
That's a beautiful beach!
I didn't know that African countries had beautiful beaches!
Katie
It was the softest and the whitest sand I've ever walked on!
Unfortunately it was winter there so the water was cold but I would love to go back there when I can actually swim in the water!
Me
Great! If I can swim there, I want to try!
By the way, Is it winter in Kenya now?
N.B. She went to Kenya in June.
Katie
Yeah!
Because Kenya is under the equator, they have rainy season (winter) and dry season (summer).
Apparently June was the beginning of the rainy season. I heard that the best time to go is December which is their summer!
Me
Oh! I heard that the Philippines has a similar climate too!
Katie
I suppose counties near the equator are like that!
Me
I didn't know that!
Oh… but when I come to think of it, my hometown Okinawa is similar.
They don't have clear 4 seasons unlike the main island in Japan.
---
orphanage
孤児院
friendly
温厚な性格(「友好的」と受け取られそうだけど、他にいい表現が思いつかなかった)
trunks
象の鼻(nose とは言わない)
I don't have a word!
言葉が出てこない
(悪い意味でも使える)
awe-inspiring
神秘的
pride
ライオンの群れ
lioness
雌のライオン
生々しい光景
→ 大自然の厳しさを感じる光景
→ 大自然の弱肉強食の厳しさを感じる事が出来る風景
と言い換えて、以下のような表現にした。「食物連鎖の輪」といったニュアンス
Wow! You really witnessed the circle of life!