Me
Thank you for sharing amazing photos of Kenyan safari the other day!
By the way, what did you eat in Kenya?
I don't know about Kenyan food at all, so I want to hear about it.
Katie
Actually, I was very impressed Kenya's food scene.
I tried some traditional food from Kenya as well as modern international cuisine.
We also cooked some meals at home to save money. HAHA.
Me
Sounds good!
What is Kenyan traditional food?
Do you have any photos?
Katie
Yeah!
Here are some photos I took.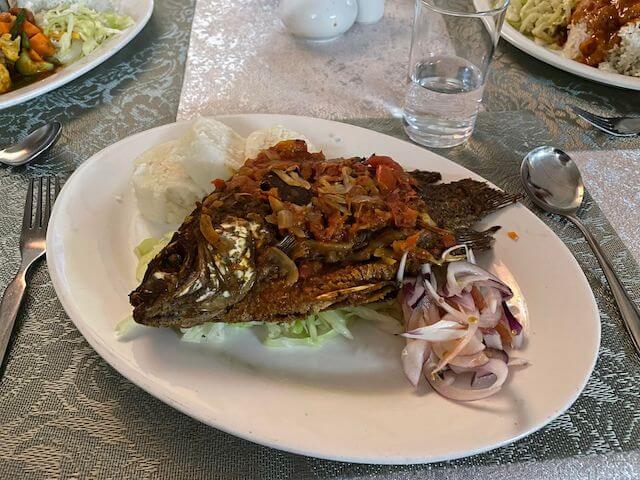 This fish is …. sorry, I can't remember the name of the fish.
But it sounds like piranha.
I'm sure I will found it immediately when I look it up.
I'm googling… OK! This is tilapia!
I had this tilapia when I visited lake Nakuru as this was the local cuisine.
Kenya is a big country, so you can find various local specialties across the country.
On the east side of Kenya there are some large lakes, so they eat lots of fresh water fish.
However, on the west coast of Kenya has lot of influence from Indian and Arabic cultures.
In Nairobi, you can find any types of the food as it is a metropolitan city.
Actually, I didn't enjoy the tilapia because it had a lot of bones.
Me
Amazing!
I thought it was only in Japan that they serve a whole fish like that.
Normally when I order fish in foreign cuisine restaurants they serve fish that's been already cut.
I heard tourists in Japan get really surprised when they see the head of sea bream being served as part of a dish.
Katie
This is another traditional meal I tried.
It's called 'ugari' which was served with chicken tomato soup.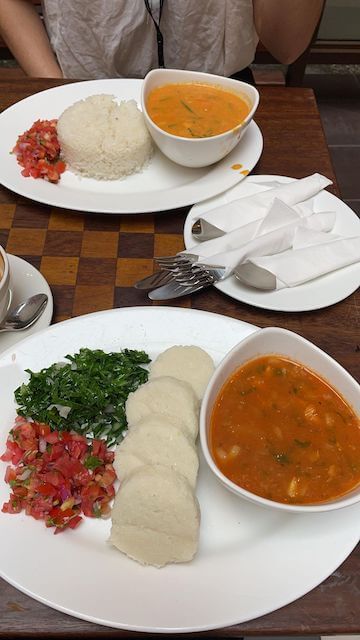 Me
Is it the white round thing?
Oh! It look like Japanese rice ball.
How was the taste?
Katie
It doesn't actually taste much.
It has a texture like dry mashed potato.
It's nice when you have it with the soup.
Me
That's intreating!
Katie
I also tried lamb dry curry with some boiled vegetables.
This was a free meal for the staff in the hospital I was working in.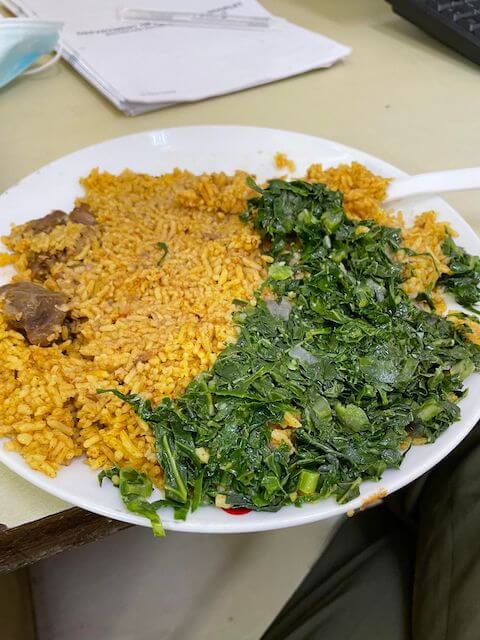 Me
That's good!
You could eat free meal.
By the way, you talked about the meals in the hospital.
Did you go to any restaurants?
Katie
Yeah!
I tried a few.
This one was my favorite.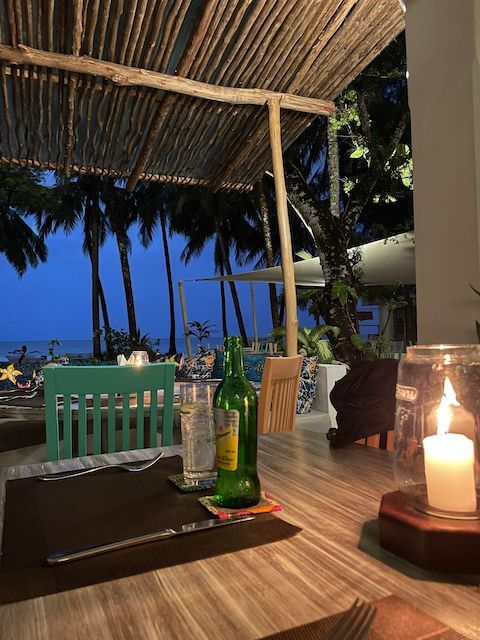 This is the view from the restaurant.
It was by the Diani Beach on the east coast.
I can't remember the name, but the view was amazing, and food was tasty so we went there twice.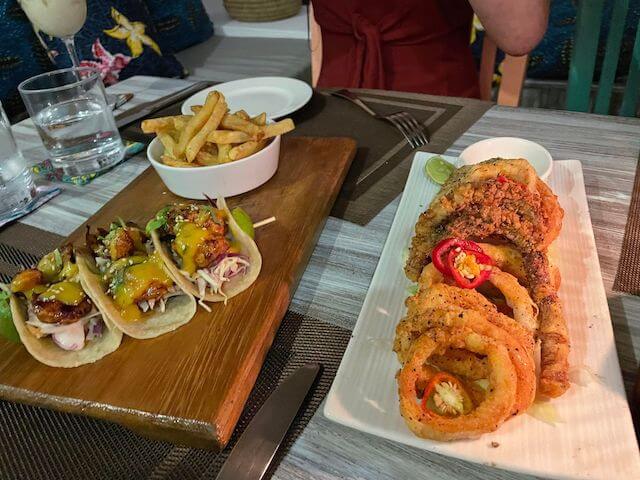 We shared starters and we ordered some tacos and calamari.
They were really tasty!
This was my main meal.
It had an Asian twist to it so I really enjoyed it.
I was craving some Asian food towards the end of the trip.
Me
That's such an amazing view!
Is it a common tacos, by the way?
Katie
Yeah! I think so.
It was better than some tacos I have tried in the UK.
Me
Really?
I didn't expect that!
But tacos is not from the UK, so it is not surprising that other countries canmake it more tasty.
Is this rice on the right side of the second picture.
It seems different from Japanese rice.
Katie
Yeah! I think it was jasmine rice.
It is common in China and I think most rice I had in Kenya was also jasmine rice.
Me
Really I haven't tried it.
Do you have any other photos?
Katie
Yes!
We also went to an Indian restaurant.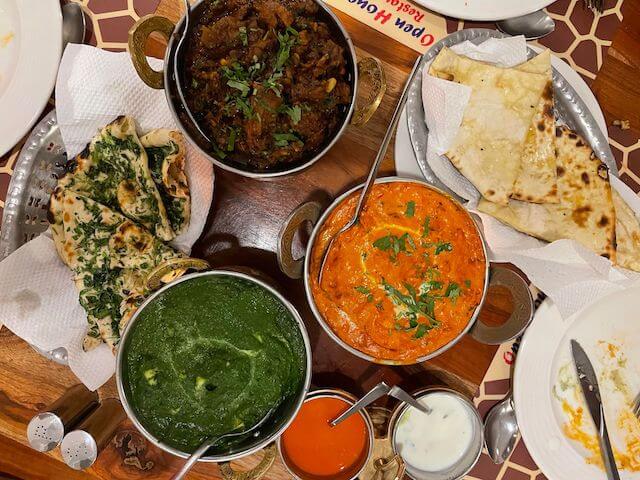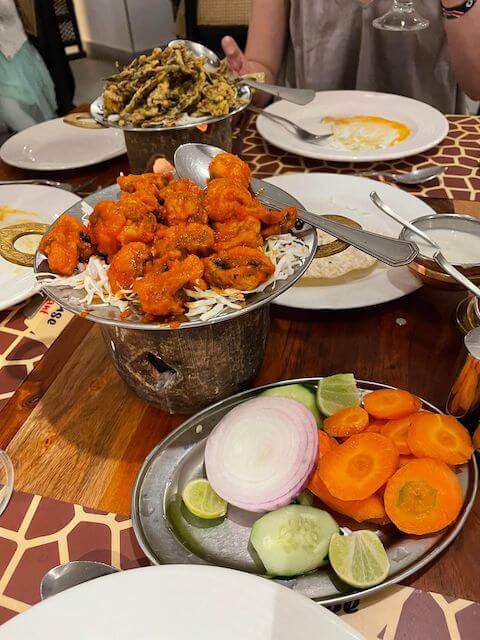 There are so many Indian restaurant in Kenya because there are a lot of migrants from India.
This one was owned by an Indian family and it was very authentic.
My favorite was okura fries.
Me
Oh! They look like really authentic Indian dishes!
I have never heard of okura fries.
And, I always thought "okura" was Japanese.
Katie
Oh, yeah!
Okura is actually originally from Africa.
In the US, they call it "lady's fingers".
Me
Really?
Why do they call it like that?
Katie
I'm not sure but I guess it's because okura looks like lady's fingers.
Me
That's intreating!
It doesn't look like lady's fingers to me.
Katie
I suppose Japanese okura is short and stubby so it's less convincing.
When I saw okura in Kenya, I saw where the name was coming from.
Me
I wonder if there are different species.
By the way, did you try any local alcohol?
Katie
Yes! I had some local beers but I didn't try any local spirits.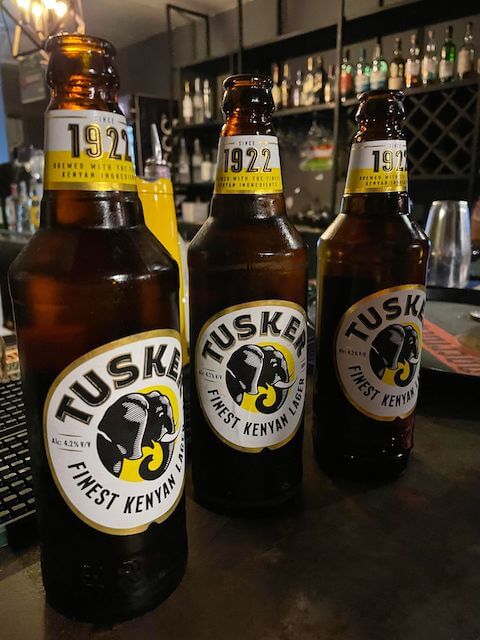 I preferred "Tusker" because "White cap" was too light.
Me
That's good!
Is there any difference from British beer?
Katie
Yes I guess.
Kenyan beer was more refreshing and lighter in general.
It was perfect for the hot weather in Kenya.
Me
I didn't expect that!
I don't know why but I assumed that the food and drinks in Africa would have strong taste.
But, it makes sense that you want to drink something light in a hot climate.
Katie
Talking about cold drinks, I also had this fresh orange juice.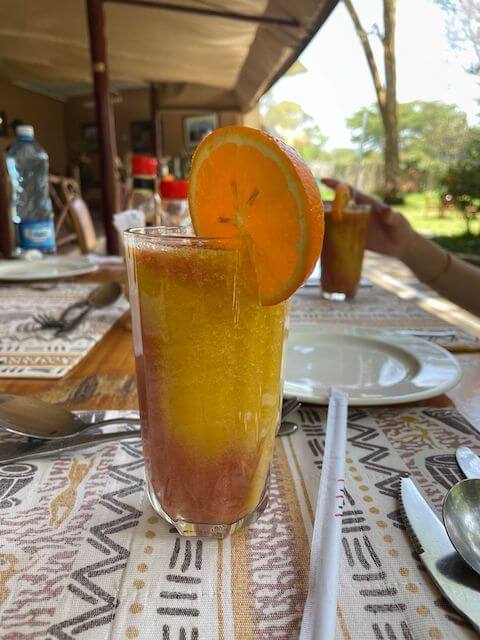 I think the pink part of this was fresh guava.
Me
It looks tasty.
I can imagine that there are many fresh fruits in Africa.
By the way, did you have any dessert?
Katie
I didn't take many photos of desserts but this was my favorite cake from a cafe called Java House.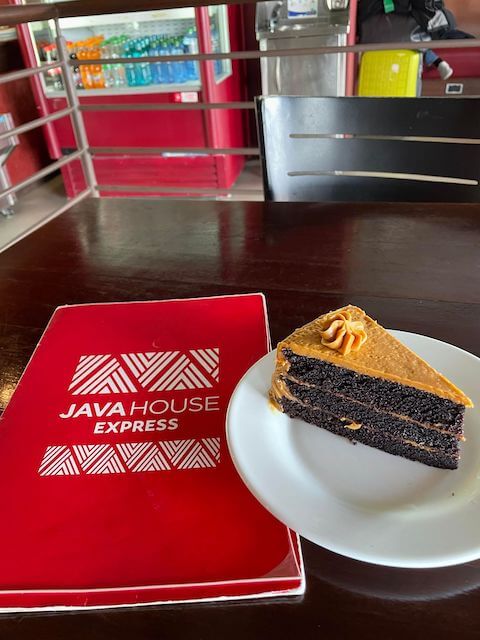 Me
Good!
What was the flavor?
Katie
It was salted caramel.
This might has been the best cake I have ever had!
Me
Goooood!
Thank you for telling me about many variety of Kenyan local food.
When you go to other countries, please tell me about it again.
Katie
Sure!
---
単語
food scene
食べ物のトレンド
lake Nakuru
ナクル湖(ケニアの大きな湖)
fresh water
淡水
fresh water fish
淡水魚
whole fish
魚一匹丸々
calamari
イカリング
I didn't expect that!
以外だね。(予想外だったね)
spirit
度数の高い酒
(「蒸溜酒」という意味もあるみたい。地域による?)